The Hive Network
When Noj met Sally…
"A toast to work friendship! The kind forged in the fires of visions realised. Of visions lost. Of targets smashed. Of targets squandered. On early morning train journeys. In late night chats. A companion to escape from whatever else life throws at us. This is my friend and business partner, Sally.
It's 13 years since mine and Sally's paths crossed in our previous roles. We worked our way up in our respective spheres (me in commercial, Sally in product), eventually leading our departments and together building new business lines for the company.
Right from the start we shared a passion for excellence, for innovation and for authenticity. Even back in 2007 we shared a vision of what business networking could become…"
– Noj Mather, Co-Founder and Commercial Director, The Hive Network
"In 2015 we made the leap, quit our secure and well paid jobs, and set out to make that vision a reality. Together.
My cheerleader and my truth-teller, Noj keeps me grounded, focussed and inspired. He gives clarity to my crazy ideas, and helps me see what works (and what doesn't!) He props me up when imposter syndrome looms. He reminds me of my badass brilliance. He comforts me when I feel myself falling short.
If you have a work friendship like this in your life, take a moment to be thankful. If you don't, open yourself to the possibility. You won't regret it. Look at what ours has become!"
– Sally Green, Co-Founder and Editorial Director, The Hive Network
And The Hive Network was born…
The first Hivers gathered together on a grey day in October 2016 at Bounce in Farringdon. Ping pong was the name of the game.
Over the years we've enjoyed bringing our retail and buy side members together across the globe with one goal: to enable and foster collaborative, action orientated dialogue.
One week we're enjoying a sunny afternoon at the Midtown Loft with stunning views of the Empire State Building, the next we're charging around the grounds at the Tower of London in search of talking ravens…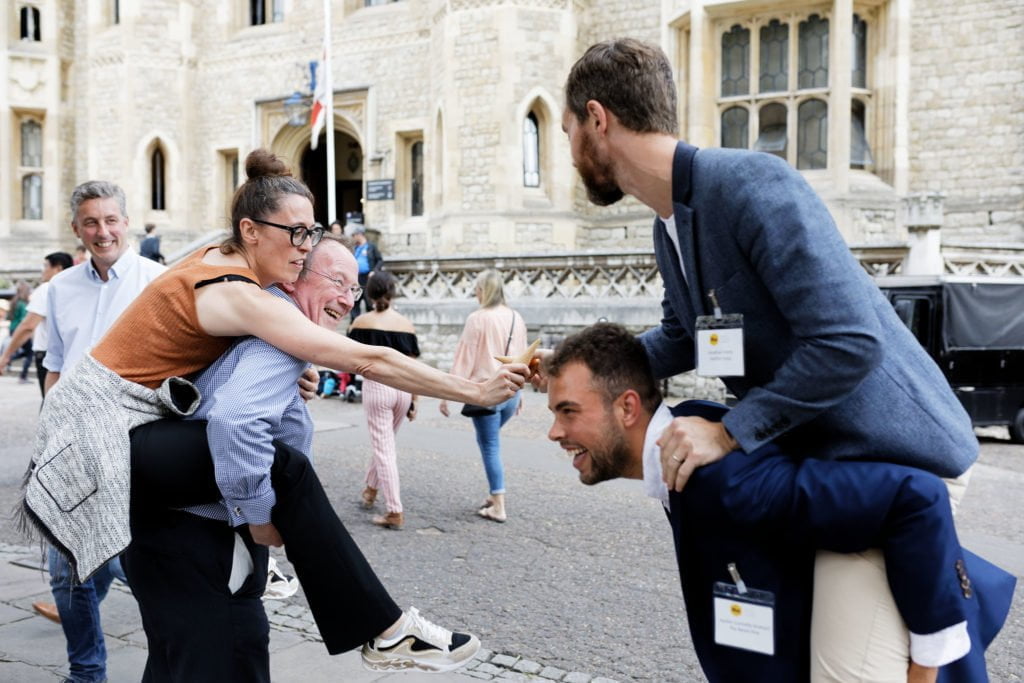 Then along came CV-19 making it impossible to meet in person…
…but also teaching us the value of being part of a community; part of a network of people who give each other solidarity, support, guidance, information and empathy.
Driven by need, we have rapidly evolved from a network into a true community – actively networking and communicating daily across various digital channels. Our members collaborate and share tips on solutions and solution-providers. They benchmark with one another as they redesign their roadmaps. They soundboard ideas and plans. They ask questions of the collective as they make strategic and investment decisions.
Great forum and dialogue. Learning some very important information to help drive BlackRock's global investment operations industry engagement and strategy!! THANK YOU, glad to participate and looking forward to continuing the discussion!" Director Investments Operations, Global Business Strategy and Relationship Management, BlackRock
I owe you guys a BIG thank you for the invite. Lots of takeaways and some level of reassurance that we are doing the right thing here. I have already shared the insights with our entire senior team on our call this morning."

VP of Retail, Peruvian Connection
And as we continue to learn and grow as a community, our promise as a team and business to members globally: