The Voyager
Alex Hislop
Chief Customer Officer
DHL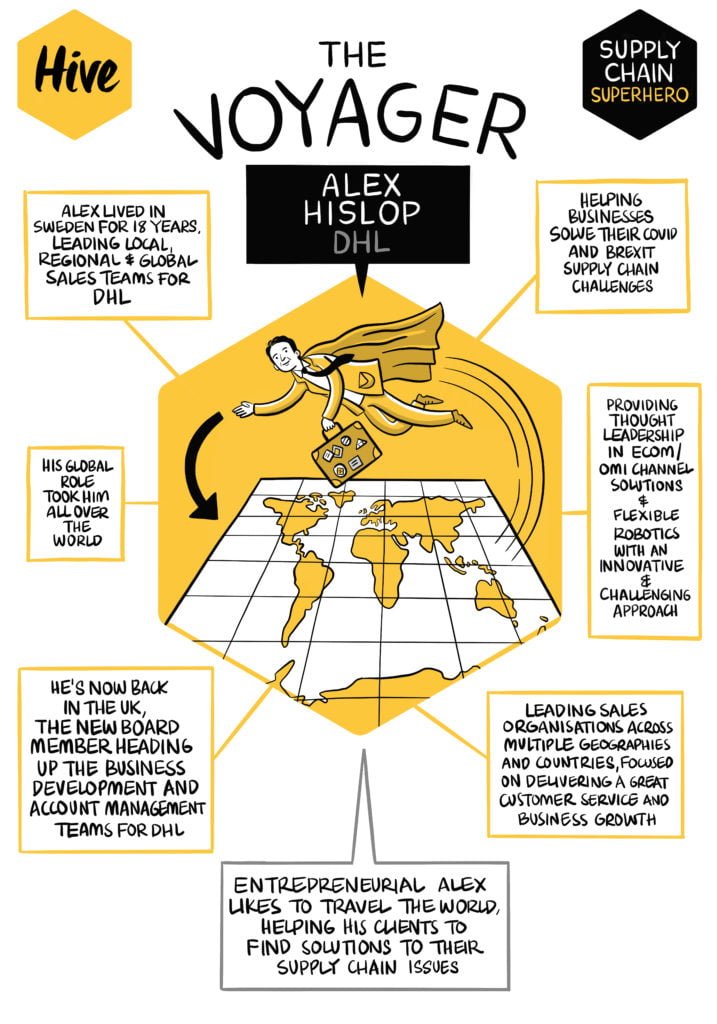 What does your role entail?
I spend a huge amount of time with customers, supporting their existing needs and also finding out more about how their businesses are developing so we can bring them solutions which can help. We have to be active listeners to understand what their pain points are and then do something relevant about it. We also need to know our stuff – be our customers' logistics experts, their thought leaders on particular topics.
Is this how you imagined your career panning out when you were 18?
Not at all! When I was 18 I had just given up on a dream of playing professional cricket, and so I went to university to study European Law and Languages. I then joined Unilever as a trainee, part of which involved working in a factory wearing a white coat and mixing the spice blends for Chicken Tonight! I then went on to launch my own company with a friend in London. It was London's first fresh meal kit business and we ended up selling it to M&S. After that I decided to move to Scandinavia, and chose to move to Gothenburg based on conversations with some Swedish guys I used to play football with. Gothenburg is the biggest Nordic port and a very important transport hub, so I managed to find a job with DHL and spent the next 18 years working my way up in the local, regional and then global organisation, as well as falling in love, getting married and raising a family.
What's the most enjoyable thing about your role?
18 months ago we were asked to move back to the UK. For me it's really enjoyable just being back here and getting the kids and wife settled (we even bought a pandemic puppy!). Professionally it's about the customers: meeting with them, listening to their challenges and finding solutions which will help them recover from the last 18 months of global chaos.
How will supply chains change over the next 5 years?
Supply chain is about problem solving and that's where the future lies. Since the pandemic started the world has seen that if supply chains lose control, it can lead to huge problems. Where companies have got full control and visibility of their shipments, they've been able to steal a competitive advantage and have continued to deliver excellence to customers. We're seeing more and more supply chain director roles sitting at board level in organisations; they're providing resilience, developing solutions and dealing with the complexity of delivering on omni-channel needs.
One challenge supply chain faces is that we need to attract more talent. Supply chain has an ageing population and we need to widen the breadth of supply chain roles, and also deepen them as we get people coming through the process and learning new skills. We also need to look for creativity and emotional intelligence as the more we work in a digitised world, the ability to bring emotion, insight and creativity into relationships with colleagues, cobots and customers will be a real differentiator.