The Problem Solver
Sunil Bhudia
Head of Carrier Solution
River Island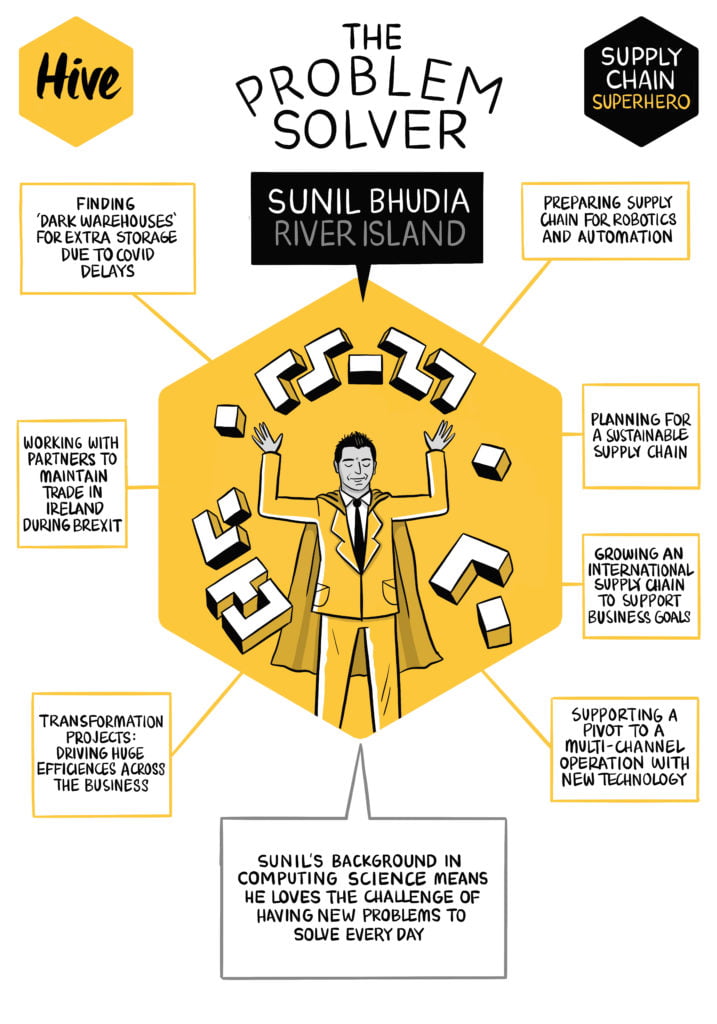 Can you tell us how you got into supply chain?
I graduated with a computer science degree assuming I'd go into computing or some sort of technical role. After joining Carphone Warehouse I moved to John Lewis and ended up running carriers for the Waitrose wines division. After that I moved to johnlewis.com supporting the channel as a business analyst and I've never looked back.
What would you say your technical background brings to your work in supply chain?
Because I had a technical background and I now do the financial piece it's quite a rounded role. Bringing technical, financial and logistical skills helps with problem solving. Anyone who can think on their feet will do really well in the role. As an example, we have a problem with space at the moment, just because of the sheer scale delayed inventory due to COVID. We've had to spin up 'dark warehouses' (warehouses not in our existing network) and bring them into our supply chain at short notice. We basically worked with third parties to go from one to five distribution centres in the space of five weeks.
What do you enjoy about your role?
It's never boring, no two days are the same, which is the buzz that keeps me going. There are a lot of big transformation projects where you can see big numbers and cost savings which you can put your name to.
What will change supply chains in the future?
Robotics and being able to use data creatively will make a huge difference. Also sustainability. We're asking for a lot of greener deliveries which are more sustainable, use less paper and packaging across their networks, solar panels where we can. The biggest change for supply chains will be how they're viewed. It used to be called a service, but now businesses are realising it's a crucial cog in the business and we need to listen to supply chain people. If businesses want to grow they need to know they can buy and allocate resources and we've got to chop and change when we come up against various challenges like the issue in the Suez Canal or labour shortages.
What can someone getting into supply chain now expect?
Young people coming into supply chains now are delivering a big step change in terms of how they're developing. There are vast opportunities to deliver huge growth for companies of all sizes. Robotics and automation will allow us to optimise and make more sustainable supply chains. Supply chains can work over autonomously, you get left to your own devices to deal with a problem, own it and deliver on it. You can't set a basic goal in supply chain as it changes too often, you'll have key KPIs but we have to continuously deliver, improve and move forward. No two days are the same and if you enjoy the buzz of finding solutions to problems then there are a lot of opportunities for you.