The Master Planner
Andy Wilmot
Operations Director
DHL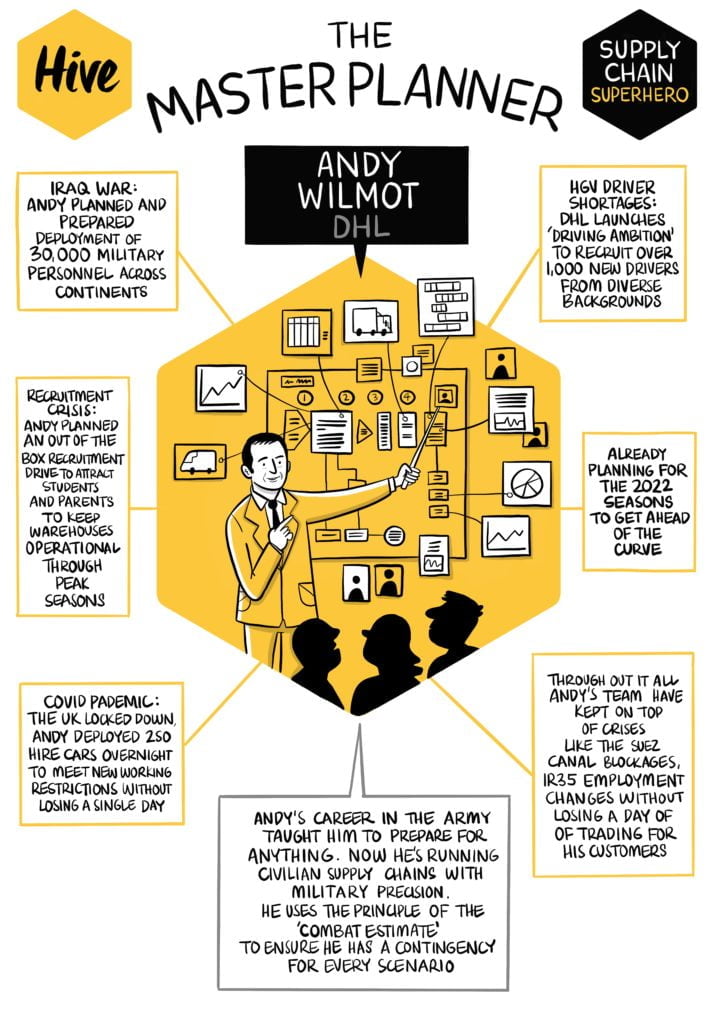 How did you get into supply chain?
I joined the British Army when I was 16 and spent 27 years in military logistics. I've served all over the world from Angola and Rwanda to Bosnia and Afghanistan. Wherever the army needed to go, whether that was on exercise or going into conflict, it was our role to get them there.
How did you find it moving from the forces to civilian supply chains?
I was ready to move on and DHL is a large organisation, with over 40,000 employees, there are similarities – you have your infrastructure and support. For me, if you look after your people everything will be OK, so having good people around you and learning has made the transition easier for me.
Do you feel like your background working in the forces has been able to support you in terms of adapting more quickly in times of crisis?
That was probably my biggest advantage because my contingency planning means I always have a Plan A, and Plan B and a Plan C. Last year when the UK went into lockdown, we were suddenly not allowed to have two people in a cab due to social distancing. I was able to deploy 250 hire cars over 28 sites overnight and we didn't even lose a day's trading for our customer.
Is there anything you can't plan for?
Yes absolutely, sometimes you have to be reactive rather than proactive, there's only so much planning you can do. But there's a reason why the government always relies on the military in times of crisis to drive ambulances or sort fuel deliveries, because the military will always have contingency plans and be able to react quickly. Military logistics are underpinned by the seven questions which takes you through a process called the Combat Estimate. It can be applied to any scenario including logistics and will allow you to work through any plan. This methodology has stood me in good stead in civilian logistics as well.
How would you apply that to something like a shortage of staff which many supply chains are facing?
We saw this coming and started really early to prepare for this. We realised we needed to think out of the box as we're in a niche location and fishing from the same pool as many other companies. We brought in 'parent shifts' from
9am-2.30pm and appealed to students by offering summertime, weekend and night shifts. We became more flexible on fixed term contracts, offering what people wanted rather than a standard six months. We listened to our people, whether they're on a payroll or through an agency, and realised that a complex shift plan is better than no plan at all. As a result we're delivering the peak when many others are struggling to find the resources they need.