The Leader
Tanja Dysli
Chief Supply Chain Officer
IKEA US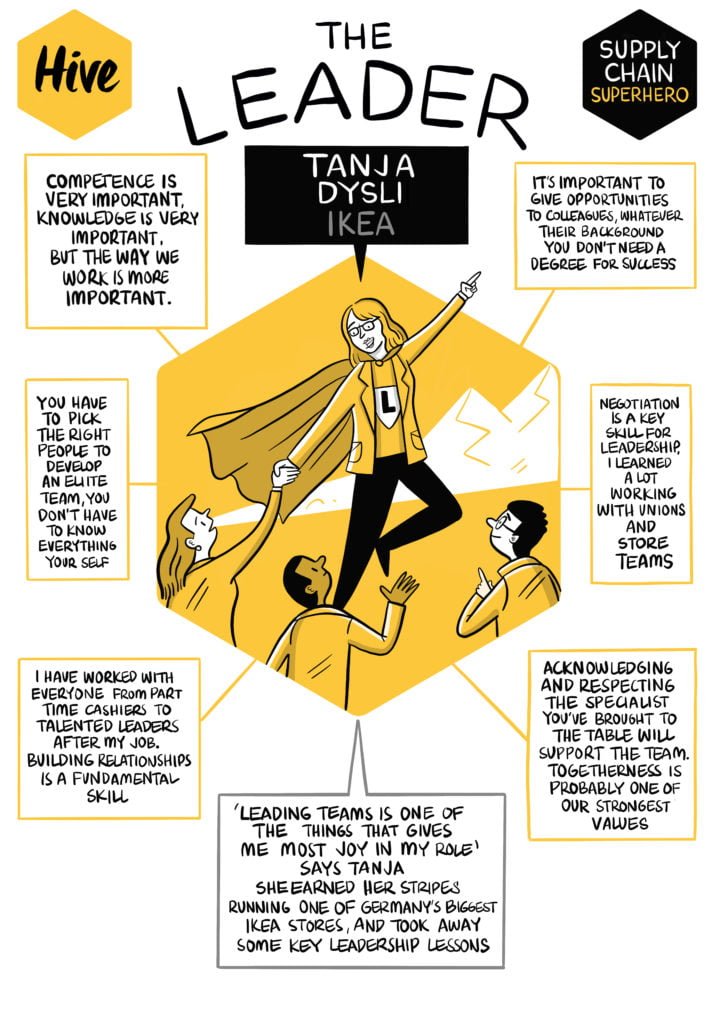 What does your role entail?
I'm responsible for almost everything regarding supply chain within the US, except for land transportation and ocean transportation. I have a team of six managers, half of them are women, half of them are men and they handle everything from warehousing, logistics, eCommerce logistics, final mile, internal logistics, sourcing of contracts for logistics, order management, availability management, capacity planning, and multi channel network design.
What led you to a career in supply chain?
I grew up in Switzerland and always knew that I wanted to work abroad and travel. I studied Business Management and Marketing then worked for a bank. At the time, very few companies were willing to commit to helping me move overseas, but IKEA had an international traineeship in supply chain at the time and were able to offer what I was looking for. This October I celebrated 20 years of working for IKEA so I've grown up here and learned a lot about the company and how the supply chain works.
Do you think supply chains can play a role in making companies more sustainable?
We see sustainability at the core of everything we do. We have a lot of different initiatives and we're impatient! We focus a lot on buy back and resale programmes, and we've invested in a mattress recycling company in Europe. We see a chance to make a big difference in transporting goods in a more sustainable way, our goal is that by 2025 all last mile delivery will be done by fuel free trucks. We're investing heavily in charging stations for both our customers and our own fleet so support this. We're doing many things but we always want to go faster and to influence others to become more sustainable as well.
How do you think new technologies will affect the future of supply chains?
We've seen that when we bring in the right machinery we can reduce waste. When you want to talk about sustainability on a larger scale, not just about CO2 emissions but also how to make a difference in people's lives, we can use robotics to do this. As an example, in one warehouse we've invested in
robotics in our goods to person solutions and as a result that warehouse has the highest female co-worker share in the country. When machinery supports movement, it's economical and healthier for our co-workers.
Any advice on getting into supply chain?
This is one of the fastest growing industries, we've seen it develop throughout the crisis. We need people who are passionate about working and making changes to supply chains. It's worth trying out, I never thought I'd end up in supply chain but I love what I'm doing because I work with a lot of great people. Start in a warehouse or in a store, learn about how a company functions and build your skills, learn about managing people and see where the role can take you.