The Innovator
Tristan Holiday
Director of Logistics
New Look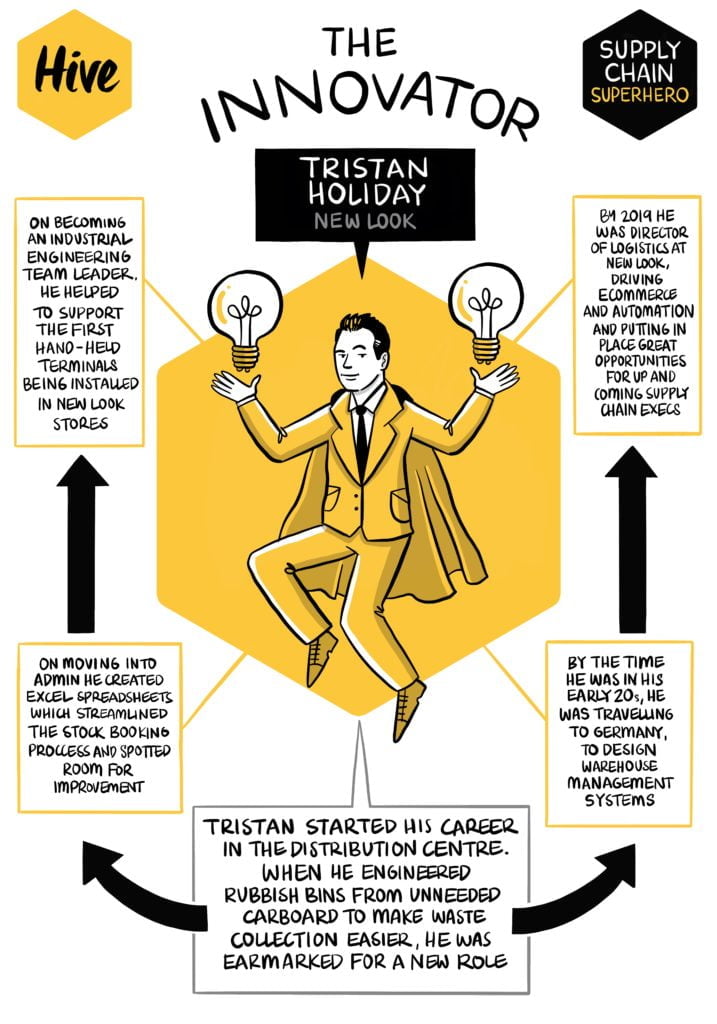 How did you get into Supply Chain?
As with lots of people who work in supply chain, I had no intention whatsoever of following that career path. I didn't do well in my A Levels and took a job at New Look, who were the big employer in Weymouth, where I grew up. When I wasn't picking I was often offered to do the housekeeping role which no one wanted to do, walking round with a broom and tidying up, and I quickly saw that I could take the cardboard from inbound boxes and make bins, which prevented a lot of mess. After that I moved into admin and was able to access some great opportunities including running industrial engineering, designing systems for a new distribution centre and many other fascinating projects in New Look and across other big UK retail brands, before coming back to New Look and progressing to the Director of Logistics role.
What advice would you give to your 18 year old self now?
Supply chain is massively more fun and exciting now than when I went into it. It would be a completely different conversation – supply chain is the future of the high street now. We'll always have bricks and mortar but stores will be future showrooms. The technology we're using in supply chains is mind blowing. People think about warehouses being picking and packing but ultimately there are so many opportunities within what we do here: whether engineering projects, people management, technology. All I did was keep my head down and try to make a positive difference, then took the opportunities which were opened up to me.
What route into supply chain would you recommend?
It depends if you're educationally minded or not. You can go and get a relevant degree or a great piece of education which might help you. Equally if you're like me and you're not academic and just want to get stuck in there's an opportunity to do that. Lots of employers have programmes in supply chain now to turn up at apprenticeship level.
We have a programme called the Lymedale Progression Framework, named after the business park where we are based in Newcastle under Lyme. It's a mechanism to allow people to increase their earning potential by taking on more responsibilities or working harder. It offers opportunities to get into different parts of the business so for example we've had people come from
the warehouse to the control room and a lot of the team tend to go into first line support from the shop floor. We also have an online training academy which can give access to thousands of courses which are available internally to anyone who works here, we've got people doing masters degrees and all sorts via the academy.
One of my team came to us as an agency worker and went through the Lymedale Progression Framework, moved into management and is now running projects. Given my background we're passionate about giving people opportunities to grow and develop across the different parts of our supply chain.