The Ethics Champion
Liz Smith
Director of Manufacturing
Lush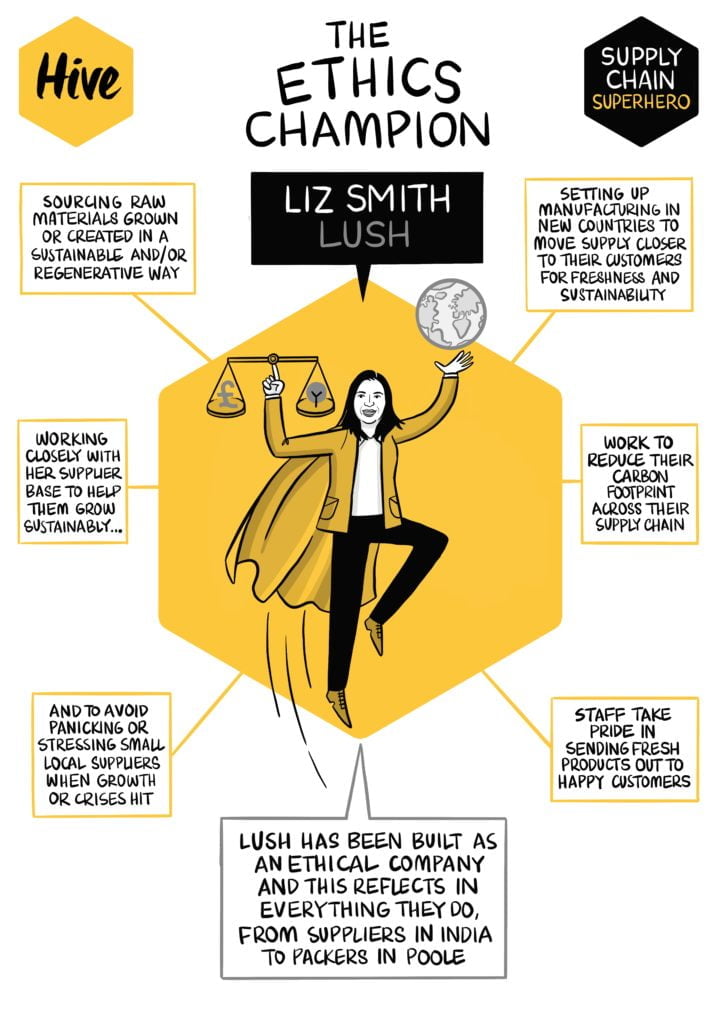 What makes Lush's supply chain unique?
We're all about handmade, fresh cosmetics. This gives us challenges in itself when it comes to delivering to our customers and our stores. Some products have to be made and shipped directly to our stores on the same day. This creates challenges in forecasting: trying to pre-empt what the customer needs and make the right amount to meet demand but not create waste. We can't have warehouses full of stock for next year like other retailers might. It's an agile, fast moving business.
How did you get to your current role?
I dropped out of university and planned to take a job in order to raise funds to travel. The job I took at Lush evolved quickly after I got it, and soon I was looking after export partners, which led to me setting up their customer services function and running a team of 50 people. I was lucky to be hands on and learn on the job, and I never left because the next challenge always seemed too exciting to miss. I still got to travel, though, as this job has taken me all over the world. It's all very tangible. I can physically see product being made and making our customers happy. I work with different areas of the business, whether that's technology, sales, finance – I get an understanding of the whole business.
How do Lush's credentials as an ethical company influence your supply chain?
Yes definitely. Right from the ingredients we purchase, our buying policies, everything is focussed on our values. We need to be a profitable business and pay our staff, but it's not all about profit for us. We work with small local suppliers and we're careful not to cripple them by demanding too much. It's not just about who supplies us either, we have to make sure our products get to stores or customers safely in the right amount of time and in good condition, we're now looking at opening up new manufacturing units globally so we're not shipping too far.
How have you coped with recent challenges such as Covid and Brexit?
We've always wanted to pay a fair wage to our staff here in the UK as well and we're aware that many roles have been furloughed when our teams have still been coming on site and working. We're starting to look at creating more
flexible shifts to make work life balance easier for our teams, and of course increasing pay. Like many manufacturers, we're also considering how we can tap into opportunities to move some of our operations to areas where there's more available workforce, rather than competing in the same pool as other retailers.
What's your take on the future of robotics and automation in supply chain?
People are far more flexible than machines. We're very fortunate to have a great team of people who can be flexible. They're also incredibly proud of their work and love to send off parcels to our customers. However, we believe that automation can take over the monotonous and repetitive tasks, things like labelling for example. It might mean we reduce headcount in some roles but we're a growing company and our aim is to alleviate monotonous work so our teams can focus on what they take pride in.