The Co-ordinator
Simon Raynes
Director of Business Change
The White Company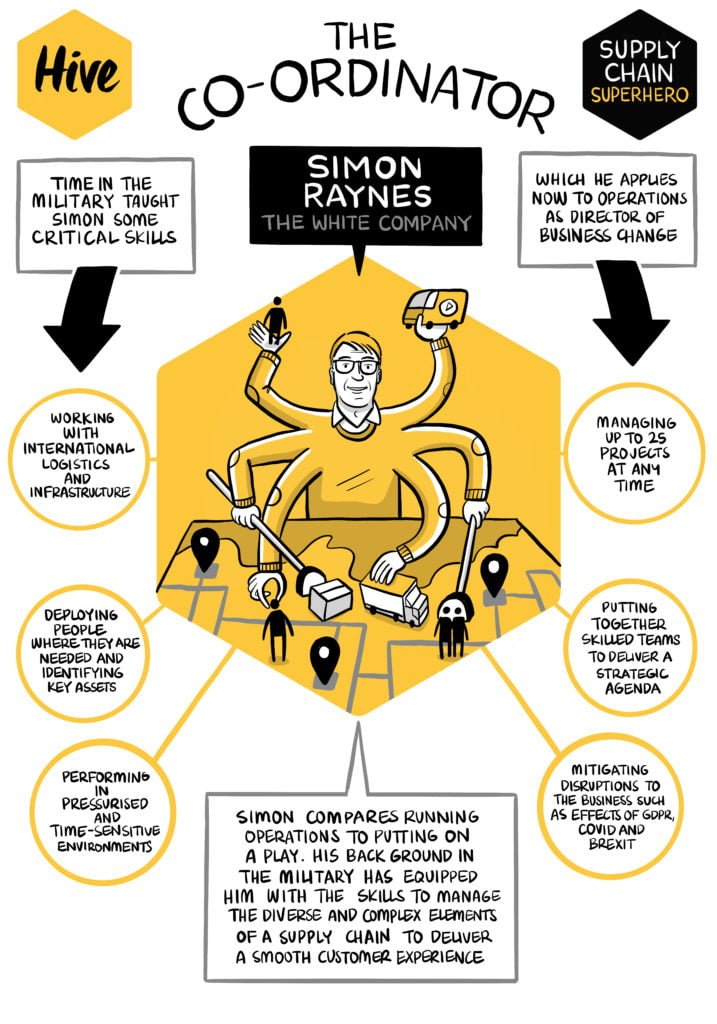 If you'd been asked age 18 where you'd end up, would this be it?
It certainly wasn't my plan but I don't think it would have surprised me. I left school with a sub-optimal set of results and after a stint running my own business I joined the army. I was initially in the infantry, then encouraged to go for officer training, which is when I went into the Logistics Corp. On leaving the forces with a strong CV in transport and logistics I moved into supply chain, ending up in a transport manager role at New Look in Weymouth. New Look is a hot bed of logistics expertise, and I was able to take responsibility for the warehouse and build a world class team as we grew from 75 stores when I joined to over 500 when I left 11 years later.
What's stood out to you about working in different supply chains over your career?
The thing I would stress the most is the variety. People often think of lorry drivers or pickers when they picture logistics and that's just not representative of the full range of opportunities in the function.
Do you think you need a degree to get into supply chain?
I think the trick to succeeding in supply chain is versatility. If you find you're exceptionally good at something that's needed in the supply chain like carrier management or customs declarations a degree won't cover that. If you've got a good attitude and the patience to be able to learn and excel in particular aspects of the supply chain then it makes no difference what your background is.
How do you think supply chains will change over the next few years?
Within the next five years we'll almost certainly see more automation, perhaps some driverless transport certainly more warehouse automation, but there will always be a need for drivers and warehouse staff. We're going to need improvements to customer service in the final mile. I think climate change will drive an agenda within supply chain which will force us to work smarter and more collaboratively, so maybe a customer gets a knock on the door and they'll get their parcels, their groceries and whatever else they've ordered at the same time. Of course for those changes to have an effect well need a system to support it so we'll be able to plan right from the back door of the supplier to the front door of the customer in greater detail.
What does retail need to do to support change?
We've collectively been caught out by the ports closing at a moment's notice and ships and containers being in the wrong place over the last couple of years. It's forced us to think differently and also moved what has always been a 'Cinderella' industry back into the forefront of those in the boadroom's minds.
We're going to have to think about in house supply chain career progression and allowing people to transfer between functions to gain experience. We also need to make it more accessible and easily understood. Sometimes we're coming across really simple barriers, like a lack of facilities for female HGV drivers putting off potential applicants, which we need to solve. It's going to take some energy but we need to properly diagnose the problem and use what influence we have to get things going.