The Leader
John Waldock
Head of Supply Chain and Logistics
The White Company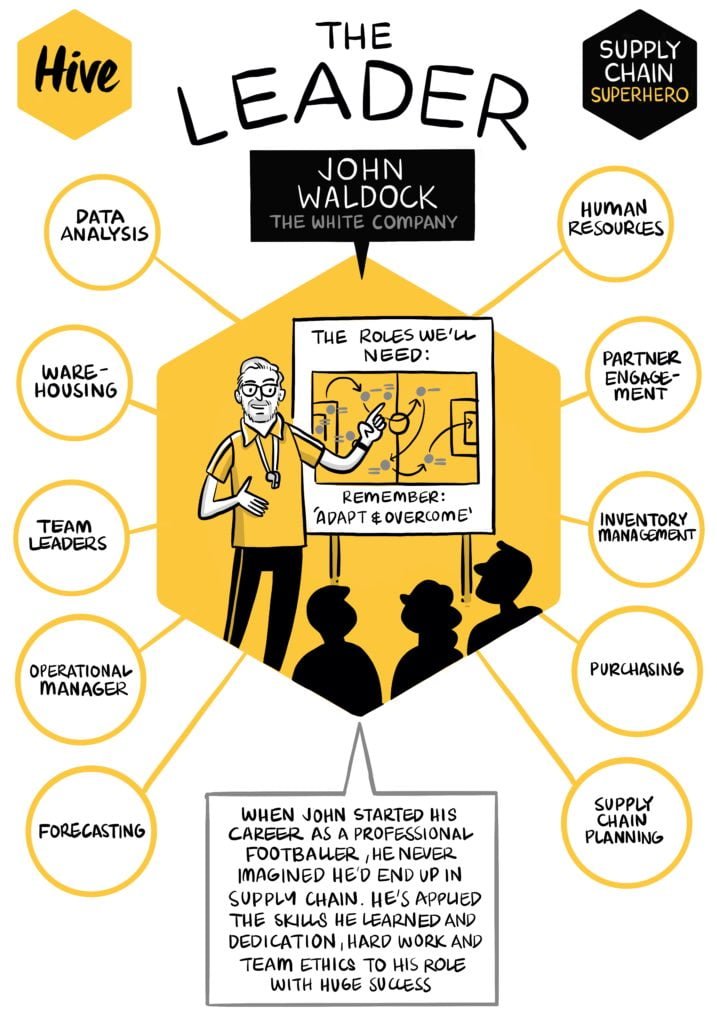 How did you get into supply chain?
When I left school I was lucky enough to have a career as a professional footballer, playing for Sunderland and with a couple of caps for Northern Ireland. Unfortunately I ruptured my cruciate ligament in a game against Leeds United, which brought an end to my footballing career. But as my footballing career slowed down, my career in logistics flourished and I worked my way from working in a warehouse to becoming the manager of a distribution centre for New Look.
Do you feel like your early career influenced your success in supply chain?
Yes a lot of what I learned in football, about team dynamics, working with people, motivating people and getting the best out of them, is a huge dividend that feeds into logistics and supply chain culture. There are a lot of moving parts in this job, I joke it's like trying to handcuff a ghost because just when you think you've nailed down a certain problem another one crops up. I think the dynamics of that changing landscape bring out the best and worst in people, but as head of the supply chain I want to surround myself with good people who add to my team, which makes me raise my game.
What would you recommend as a good route into a supply chain career?
There are some good graduate schemes out there and some of the 3PLs in particular are good routes into the role, which offer a great opportunity to understand the grass roots of what a 3PL looks for and how it does business. But those schemes aren't for everyone so they might prefer to jump in at a more junior level and work the ranks, which is the route I took. I earned my stripes through everything from picking and packing to team leadership, Distribution Centre Manager then Head of Logistics. Equally you can look at a hybrid option and work with companies such as the Supply Chain Academy, who do training over days or weeks in everything from leadership to demand forecasting, planning or commodity codes.
How do you think supply chains will evolve over the next few years?
What we've seen throughout the pandemic and Brexit is a degree of real vulnerability in business' supply chains, even through simple labour shortages meaning orders can't be fulfilled or HGVs can't be driven. All of this will expedite automation, in particular in terms of final mile delivery but also in terms of AI in general, whether that's in customs clearance of demand planning. I've seen a big increase in supply chain leaders realising they don't have enough bums on seats and looking for a piece of kit which will be able to bridge that needs. The cost of labour and of finding the people and the skills we need is increasing, which makes the business case stronger for investment in automation. I think over the last few years we've stepped forward about a decade in terms of readiness to automate supply chains, simply because when we look at peak trading periods there will be lost sales because supply chains didn't have the manual labour to fulfil orders or deliver them.
There's an opportunity for data analysts or just people who are familiar with working with data who want to come into a market that's crying out for help. Supply chains are more data-driven than they've ever been.