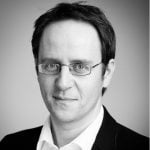 Jeremy Wyatt is Professor of Robotics and AI at the University of Birmingham and we were thrilled he delivered the keynote speech at our recent Retail Hive Live meeting, Focus on Fulfilment, attended by over 100 senior Retail leaders.
Much of Jeremy's discussion focused on the fact that AI and machine learning has in fact been around now for decades, but the game-changer is now that the entry cost is dropping dramatically making this technology more widely accessible.
Download Jeremy's presentation here as he explores the different areas of Machine Learning; how AI has been adopted for use in Retail from product recognition and product testing to facial expression analysis;  the three waves of Robotics and finally the huge impact Robotics is having within the Fulfilment sector.