Exchange: Acquiring and Retaining Tomorrow's Consumer
It has been a year like no other; retail has been forced to quickly adapt and weather a constantly changing landscape with continued challenges. All against the backdrop of a consumer that is evolving – in both expectations and behaviours. It's now essential to deliver an experience that is memorable and effortless to first attract – and then retain – the attention (and purse) of tomorrow's consumer. Retail must continue to grapple with macro consumer trends whilst developing a streamlined journey from discovery to purchase in order to survive.
At our recent Residential Exchange meeting we were joined by our community to discuss acquiring and retaining tomorrow's consumer. Check out our newest scribe below highlighting some of the key trends, as well as the individual takeaways from the roundtable discussions… Enjoy!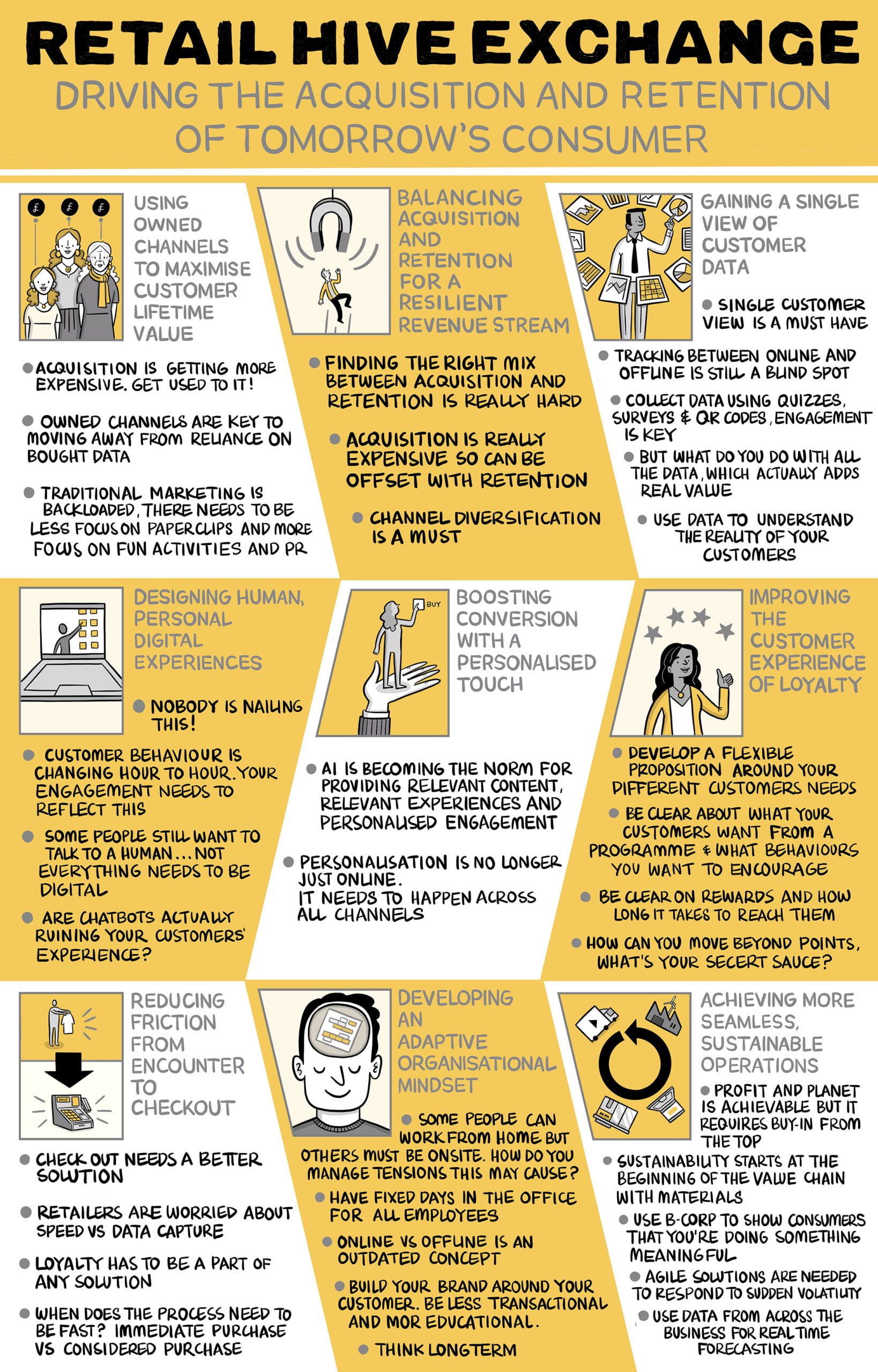 Developing an Adaptive Organisational Mindset
Shift from always focusing on new customer acquisition to LTV & Loyalty

Challenges of hybrid working

LTV of customers and price of acquiring new customers is changing

How do we harness technology to make remote working feel more inclusive?

Need to recognise that today's employee is not the same as 2 years ago

Mutually beneficial profitable retail collaboration

Need for retention – must get staff up to customers post pandemic expectations

Cross functional collaboration

How do we become better at dealing with uncertainty?

The agility we enjoyed during lockdown has disappeared, how do we get it back?

Bring retail staff on the journey, they are the digital transformation

Focusing on customers/making a journey customer centric is key

We are now worse off due to going back to structured agility

The combination of covid and Brexit caused supply chain issues. Also having to deal with a great deal of issues born from the current environment

Move from sales focus to customer and acquisition

Organisation and process changes are needed. Customer first mindset.

Challenge of keeping innovative approach of pandemic times

Moving from sales first to customer first. Offline and online are not competing against each other.

How do we keep the positive, adaptive agility that teams had at the start of the pandemic?

Unrealistic expectations of online – need to reset

Continue to innovate to break down selling channel barriers

Move from transactional customer relationship to engagement and community

We are now much better at talking to customers, can't just have a transactional relationship

Customers aren't just a transaction, talk to them like humans!

Brands are better at talking to customers post pandemic

Collaboration, omnichannel, clienteling, virtual/instore

Adapting from retail to omnichannel with customer service/experience

Important to take a more nurturing approach to customer communication

Openness of conversation and discussion – great to have a view of cross industry challenges

Use digital to learn your customer – but get the pulse of the floor to build your service level

Investment in digital and focus on the human element of commerce to connect with people instead of focusing on brand.
Reducing Friction from Encounter to Checkout
Reducing friction vs protecting AOV

Place checkout where the customer is

Big reminder of the importance of incorporating loyalty into one click checkout

Reducing friction is moving up the funnel

Important to balance speed/simplicity with customer communication, upsell etc.

Use data to give the customer the path they want to use to pay

Friction is often more of an issue in product discovery and decision-making process than checkout

Think out of the box to reduce friction

Reduce friction by trialling the data input from the user's experience

Reducing friction is a good thing but potentially conflicts with retailer needs 

Swift checkouts incorporating loyalty offering

Balance commerce with optimising checkout

Friction reduction in discovery

Ease of use payment security

Consider role of human assistance as part of customer journey

Video assisted checkout

Social commerce is huge, connecting to the checkout is hard

Personalisation, data, customer expectations – is there a one size fits all solution?

Personal checkout, the customer can take with them on all journeys

Technology needs to catch up to enable testing to reduce friction

No customers are the same – personalise your sale/checkout

Balancing consumer objectives i.e. I want to check out fast with retailers' objectives i.e membership/cross sell etc.

Delivery and payment data = easy to shop – what is the right balance to find????????

Balancing the benefit of friction/reward to drive value

Cross sell/up sell opportunities sometimes require friction – right place on site in imperative

Getting basics right is very important, don't get lost in complexity

International growth is a challenge

Friction takes many forms depending on tech inhibit

Combination of products to make a smooth process

Every process has a chance to cause friction to put off sales

Checkout friction – checkout from where?
Acquisition vs Retention
Diversify channels knowing it's possible we may lose access to some

Acquisition pricing is challenging in every industry – safe search from google is a nightmare

Live shopping – what would this look like?

Diversify marketing channels given power of google

Channel diversification is critical for acquisition and retention 

Be where your customers are

Live shopping is a channel to explore

No fixed mix of spend between acquisition and retention – very difficult balance to achieve

How is my business perceived on my non owned channels?

Striking a balance between retention and acquisition is difficult

Acquisition vs retention? How do you do both?
Digital Human Experiences
How do we make digital better at 'listening;' to our customers as humans do?

Ask the right questions – what experience does the consumer want?

Only make decisions based on the consumer despite how difficult

Keep it simple, keep it human

Look at ways your desired product allows for necessary tech experience

It's all about finding the right phygital mix for your audience

How do you blend the digital/human experience when thinking about in-store experience and online

Consumers that have a mission purpose are far more informed than store associates

Next generation will want voice/mobile to deliver human experience

What comes next after AI? Voice? Video?

Consider points where human interaction adds value – Price/consideration

Are we human or are we chatbots? When should we step in the assist/convert/retain

Digital is great for scaling human capability but doesn't have the human touch

Post purchase video check in 
Using Owned Channels to Maximise Customer LTV
Consolidation of multiple data sources still a material issue for multichannel networks

Growth and cost of acquisition

Adapting marketing and data capture along with legal changes

Customer acquisition is increasingly challenging in digital both from tech and process point of view

Need to give more thought to how to identify unknown browsers and in store shoppers

Strategy to deal with IOS and cookie tracking changes for customer tracking

Understanding the customer from unknown to known driving value across the touchpoints

All brands are seeing high media – a return to traditional media

Greater focus needed on attribution models for brand marketing spend

Reversion to traditional advertising channels

Data is increasingly unreliable – revisit OOH Marketing? More full funnel approach

Brand marketing impact on customer LTV & Loyalty

Paid media affiliate is driving interest in traditional media

Go brand – Bus Weapon – Black Friday – TV is back

Brand ROI assessment 

Need to amend the metrics we track – Invest in brand marketing to engage returning customers

Challenge of uncertainty and therefore whether LTV is achievable 

Once customers are through the door, what should focus be on in their journey after that? Brand awareness?

Need to be adaptive to your target customer – different markets have different attitudes

No one has cracked this!! Need to go beyond current marketing funnel

How do customers want to journey through our brand?

Cost of acquisition – drives need to increase retention

Higher acquisition costs work if LTV increases
Seamless Sustainable Operations
Trust transparency and measurability/validation of claims

Working to a model is very important as you can't address everything

Packaging, trust, consciousness, do we talk to our customers enough and find out their insights?

What do customers want, vs what they expect? Would they be happy with sustainable packaging if it risked damage to their item?

More efficient business models by adopting sustainable practices

Consumers having visibility of sustainability impact of supply chains

Trust, transparency across the business starting with the product

Boards have to consider 'profit and planet'

Sustainability is a short term cost for long term gain/survival

Do customers value/understand sustainability?

It's very important to find the balance between sustainability & Green washing

Difficult to talk authentically about sustainability

Forecasting is as hard as it has ever been!

Expediency vs principle! Look at solutions that de-stress logistics and increase sustainability

How can each method of production and distribution be more sustainable?

Need to review how we can fulfil from store!

2020 and 2021 outlaws! This year is a reset year

Need buy in from the top

Sustainability starts at the top and needs to be more than carbon offset!

For success on sustainable operations you NEED buy in from leadership

Drive for profit vs plant needs to be set at the top

Sustainability has to come from and be supported from the top down

Concept of 'healthy marketing' not encouraging excess consumerism but how brand can encourage public focus on sustainability

Sustainable tax
Single View of Customer Data
Scanning Data is key

Why are you doing it? What do you expect from it? Who will it benefit?

Know why you need to build a single customer view

Determine cost vs benefit of any additional data collection/processing

What extra data is worth the extra cost?

Be thoughtful about which data is a actually needed/going to add value

Customers will say they are interested in things that the data doesn't agree with 

Customer vision is business vision

Shopify flexibility on tools, customer data

How can we assess potential incremental value from bringing in data to an SCV

Beware the legacy systems!

SCV is important as long as you have an actionable outcome from the data

Wholesale SCV? App? OR Code? Loyalty

Build your tech stack in such a way that you can easily adopt new technologies

Personalised direct mail

The ability to link by card data
Boosting Conversion with a Personalised Touch
How far to go? Can content follow the level of the consumer's needs?

Personalisation can be easily light touch just by being dynamic e.g by country

Personalisation is key but there is still no sure-fire approach to action in the industry

Journey of personalisation is a long one – it's important to make the first steps now.

Still got a long way to go!

Personalisation goes beyond knowing the customer's name, but you should also be weary of being too intrusive

Opportunity

Personalisation will become "normal" but will it be overt to the customer?

When do we ask the customer what we/they want? Is the personalisation relevant?

Using attributes across products and customer to surface products

There are many options to personalise a recommendation

Personalisation tools are essential, but implementation isn't straight forward

Be aware to not become so personalised that customers end up in an echo chamber

Challenge to balance/blend personalisation with relevancy
Customer Experience of Loyalty
Loyalty through lifestyle benefits (community, in person events) rather than through discounts/commercial

Loyalty isn't all about discounting – Community, Exclusives etc.

Where does loyalty and discount coexist

Loyalty on reward programmes need to ass clear value, not just a discount channel

Validation of going after community and money cant buy benefits

Loyalty means different things to different consumers

Added value must be seen through loyalty

What are the new ways to surprise and delight?

Loyalty schemes can take new shapes and don't have to include points

Think about experiences instead of points as rewards

Keep rewards diverse and innovative, don't be too formulaic

Removing barriers to entry, simplify the offer, communicate concisely

Using unusual data sources e.g Strava to enrich loyalty activities

Delight consumers

Identify consumer robustly and be flexible to what offers are and how they redeem them

Be clear on what behaviours you want to drive before designing the scheme
We'll be continuing the conversation at the following upcoming meetings… See you there?