The luxury shopper has evolved – in both expectation and behaviours – and the need to provide a unique, memorable, and defined journey to consumers is vital to the survival of luxury brands. Whether in-store or online, the experience of luxury shopping must be outstanding from discovery to order fulfilment. Brands and retailers must have a clear understanding of who their customers are, what they want and how to communicate with them.
At our recent Future of Luxury meeting we hosted retail leaders from the luxury sector to combat some of the biggest challenges being faced within this field. With four roundtable topics focusing on various focuses within luxury retail, the conversations were vary varied and covered such a wide range of topics, but as always, there were some key trends that shone throughout.
Check out our newest scribe below highlighting some of these key trends, as well as the individual takeaways from the roundtable discussions… Enjoy!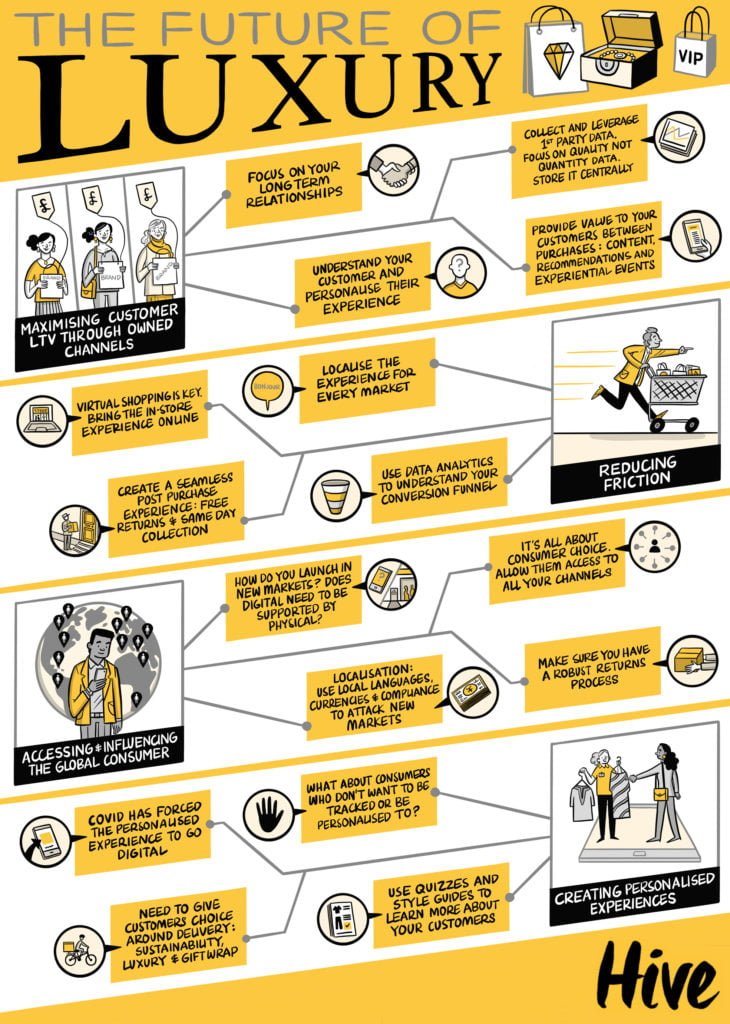 Creating Personalised Experiences
Pre Discovery is as important as "post survey"

Personalisation digital – the need to give consumers the opportunity & reason to log in and interact, playful 'games' to data collect

How can we personalise customers who won't login?

Personalise delivery options – Eco Packaging; slower deliver – for eco-conscious consumers

Understand your clients needs (preferences) at each experience phase

From product knowledge to client centricity

It is getting harder to create an online personalised journey with GDPR and cookie changes – we must now find ways to overcome this

Finding the balance of using partnership in certain territories

Personalisation must be authentic both to the person and the brand

Authenticity vs brand value for customer

Focus on differentiating between digital and physical customer experiences

How can brands express authenticity without being too corporate?

How can personalisation become more of a 2 way dialogue?

To offer a truly personal experience it must be more human – more nuanced than A.I

Storytelling should be authentic to the brand 

Personalised content based on journeys can go wrong

The future of personalisation is not data input but person centred output

Personalisation is about all channels not only product related

Personalisation gone wrong is worse than a non personalised experience

Personalisation = engagement (on the whole)
Reducing Friction
Virtual/chat functionality is a great benefit

Mobile checkout ease, payment solutions, trust

Localisation is paramount – payments/experiences/culture

Removing frictions means identifying problem points and interpreting low risk solutions

Payment options increase exclusivity

Different spending habits of  Millennials vs Gen Z – £ spending is more

Payments providers are driving millennials to luxury brands but not driving AOV

How do we open up ethical and effective payment methods for Gen z to make luxury sector possible?

Affordability is a barrier to entry for luxury brands

Generational behaviours

Improving conversion balanced with net driving 'irresponsible' spending, important to balance especially with gen z

eCommerce and physical retail should work together

There's still challenges connecting omnichannel – how do we tie it up?

Virtual shopping tools are key to improving experience and reducing friction

Aligning software between store and online is key to reducing friction

Understanding conversion funnel is super important

"Real" omnichannel

eCommerce commissions

Tech rollouts across key territories is important

Mobile check out needs to be easy

Payment solutions and trust are so important
Accessing and Influencing the global consumer
Globalisation comes from setting the basics of omnichannel

Find out if your customers are digital first 

Speak-easy types of access to brand experience

Consumer expectations in the US Vs. rest of world

Importance of omnichannel

Digital Exploration before physical expansion

To be a true global brand, be globally consistent

Can we grow or launch a brand in new markets by digital only channels?

Digital launch first before retail localisation(USA) operations opportunities

Solve local customer 'problem'/reasons why?

Launch digitally first

Local specificities are critical to get right

Personalised experience depending on location

A brand can be global but still have to create a localised experience

For a 'small' brand it is important to use cost efficient digital tools to approach new markets

Adapting brand storytelling and arrangements to different markets without losing the core brand identity

Brands compete globally but consumers remain mostly local

Not necessarily a choice between a global or local approach

Should eCommerce be managed by a third party?

New markets – can you be eCommerce led or do you need physical stores too?

There is an ability to serve top experience by territory
Maximising Customer LTV
Understanding the bridge between Online consumers and in-store experiences.

Critical to become less dependent on 3rd parties and maximise customer data

Nurturing owned channels is vital

Markets Vs Regulation + the seamless journey from a customer POV.

Multiple users and devices usage can make understanding data more complex

Bridging the gap between online and instore is key

Capturing data is more complex and expensive so looking at alternative solutions is key to moving forward

The importance of closely aligning with your partners to remove friction from a CX, commercial and demand perspective

Customer value does not mean spending value, make your customer an advocate

Not only consider the customer LTV but also the reference value 

More of a statistical focus on your best clients spends meaning with people

Partner events work well for high net worth individuals 

How do you determine the effective budget split in acquisition vs retention

Data vs. insight

Limited luxury industry maturity

How to reduce friction between outline data and consolidation within new data purchase

Have we understood the impact of poor use of data on consumer LTV?

Retention vs acquisition – where should spend be prioritised?

Focusing on client retention through exclusive vip offers

How should we educate industries on how to grow LTV and how do we calculate it?
We'll be continuing the conversation at the following upcoming meetings… See you there?