Awin Blog Post – It's Time to Trend: TikTok Marketing Campaigns with Sellers Alley
B
rands 
can tap into new audiences and run successful campaigns on TikTok with Awin #Power100 partner Sellers Alley.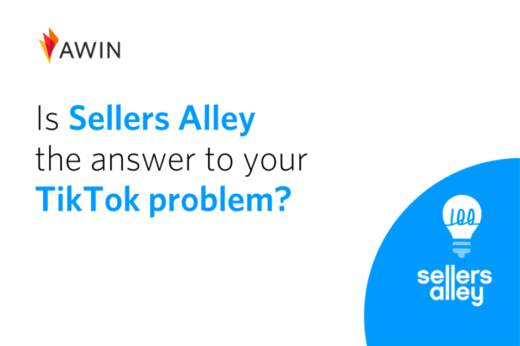 TikTok has taken the world by storm, boasting over one billion monthly active users at the start of 2022. With more than an eighth of the world's population active on the app each month, the potential reach for brands is monumental. Whether through the platform's ad units or influencer activity via its Creator Marketplace, advertisers can tap into an audience of highly-engaged consumers.
Sellers Alley has positioned itself at the forefront of the TikTok marketing space, providing retailers with the tailored strategies needed to excel and the confidence to invest in a new, exciting platform by devising an engaging and authentic strategy. What started off as a one-man show headed up by Founder and CEO Lazar Žepinić has rapidly grown into a 140-strong outfit with offices in the US and Serbia that now offers Awin brands access to its services for TikTok campaigns via a strategic partnership. 
A self-professed "online advertising nerd" with over a decade's worth of experience in the industry, Žepinić expanded Sellers Alley to cover multiple disciplines from PPC to display, earning Google and Amazon partner status along the way in the space of three years. Given its marketing pedigree, it's no surprise Sellers Alley's latest endeavours with TikTok have been equally, if not more, successful.  
For many brands, TikTok may seem like an untried and untested channel compared to other mediums. With its unique culture and skew towards Gen Z and millennials, executing a profitable TikTok marketing campaign may present some challenges for advertisers seeking to appeal to its younger and potentially unfamiliar demographic. In fact, they're likely to be marketing to a completely new audience according to Sellers Alley's own data, as 40% of TikTok's users aren't active on Facebook or Instagram. Such an untapped pool of potential customers presents a fantastic acquisition opportunity, but also a massively squandered one if your content fails to engage. With almost two thirds of users stating advertising on TikTok feels fresh and unique compared to other platforms, taking a generic approach to marketing in this space could see a brand perceived as out-of-touch or, worse, irrelevant. 
As a certified TikTok marketing partner, Sellers Alley has the credentials to tackle these potential hurdles. Its results are vetted by TikTok itself, with expertise across a number of specialities from campaign measurement and management to the creative needed to get the platform's stamp of approval. Earning this status comes with a number of benefits too. Sellers Alley and its clients gain privileged access to exclusive features ranging from early previews of new tools and boosted posts based off social listening data, as well as direct integration with TikTok's marketing API.  
These relationships also benefit TikTok as its partners' data and feedback aid in optimising the tools and algorithm, creating a two-way dialogue that grows the platform in a collaborative way. As a strategic partner of Awin, Sellers Alley further enhances TikTok marketing campaigns with affiliate tracking alongside the suite of powerful tools and reporting the Awin interface provides. 
Global beauty retailer Feelunique partnered with Sellers Alley via Awin to launch a coordinated TikTok marketing strategy, recognising the power the platform had in helping the brand tap into new audiences. Supported across Feelunique's other marketing channels, the campaign successfully generated +49% in Google search volume and 84% new user engagement. Read the full story here. 
Although measurable performance is still key, it's Sellers Alley's knowledge and understanding of TikTok's platform and audience that sets the agency apart. Žepinić and his team have managed to pioneer a winning formula in a market that's still in its relative infancy, free from the oversaturation of more traditional channels. Through the Awin partnership, it has presented a chance for brands to develop TikTok marketing campaigns, and jump on an opportunity that's quickly scaling to connect with audiences in a completely new way. 
Sellers Alley is one of the #Power100 partners featured in the Awin Report 2022—an industry first publication profiling 100 of the most exciting partnerships on our global platform across every market and sector.  Access your free copy here.