Post-Meeting Report:
The Finance Hive: FX Exchange
FX Swaps Transparency, Futures Liquidity, Dark Pools, and more…
It was amazing to see our European FX members and partners once again at The Hoo, for our second FX Exchange in the UK! We've put together this handy wrap report, summarising all of the incredible insights that were shared onsite, and key takeaways to keep front of mind when navigating the ever-changing FX landscape.
Discussion topics include:
FX Swaps Transparency, Bloomberg
FX Futures Liquidity, CME Group
STP and Dynamic Automation, FX Connect
Data Consolidation and Transparency, 360T
Best Execution and Data Analysis, LSEG
Dark Pools in FX, LoopFX
FX Options Electronification, Optiver
FX Futures Pricing, 360T
To gain the full findings, just download the report and enjoy… Be sure to let us know what you think!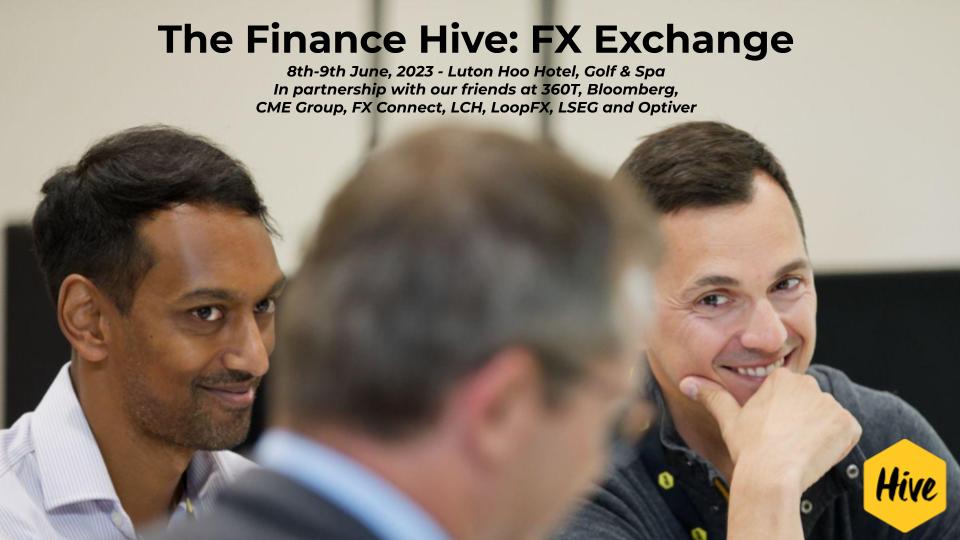 "If you have an apple and I have an apple and we exchange these apples, then you and I will still each have one apple. But if you have an idea and I have an idea and we exchange these ideas, then each of us will have two ideas."
Interested in reading the report?