BigCommerce Blog Post – BigCommerce Delivers a Bundle of Ecommerce Joy to Winstanleys Pramworld
| | | |
| --- | --- | --- |
| 27% | 26% | 24% |
| increase in customers | increase in conversion rate | increase in orders |
Performance metrics compare May 9-Jun 9, 2021 to Feb 9-Mar 9, 2021.
See how customisable, cost-effective and reliable BigCommerce is and why we built it that way.
Keeping business all in the family
The history of Winstanleys Pramworld, a pram (stroller) and nursery retailer, spans six decades and three generations. It all began in 1951 when John Winstanley opened a decorating supplies shop in the town of Wigan, just northwest of Manchester, England. Six years later he expanded the business with the purchase of Jarvis's Cycles, a bike company. And six years after that he expanded again by adding a children's nursery department to the growing company.
His son, Kevin Winstanley, joined the family business in 1972 and over the next 20+ years the business continued to grow. Kevin's sons, David and Carl, joined the business in 1994 and 1997, respectively. David managed the children's toys and nursery department and Carl oversaw the pedal bicycle arm of the business. The company eventually outgrew its location, and the decision was made to split the company with Carl moving the bicycle business to a new location.
"When we hit the digital age of websites, we decided we were going to separate the company into two businesses. So, my brother went off and did his thing and I've carried on the nursery retail side, which includes two brick-and-mortar stores and our website," said David Winstanley, Director of Winstanleys Pramworld.
Challenge
Less support. Diminished performance. More frustration.
Winstanleys Pramworld, Pramworld for short, was on Magento 1 for approximately nine years and admittedly the company grew on the platform. However, things changed when Magento decided it would no longer support Magento 1 and introduced Magento 2 as its next-step solution.
"We naturally assumed Magento 2 would be a good fit just because of the success we had on Magento 1. But obviously that wasn't the case," David said.
Magento 2 was very resource intensive for updates and security patches. And, all of our development budget was spent maintaining the site, not actually delivering any new features or helping the business grow."
David Winstanley, Director, Winstanleys Pramworld
"We found Magento's SEO to be poor, as we had some issues with the platform being visible to Google, and there were site speed issues as well," David stated.
Tired of the ongoing frustrations, Pramworld decided it was in its best interest to re-platform to a SaaS platform.
Solution
"SaaS-tisfied" with BigCommerce.
We wanted our new online store to be built on a SaaS platform where all the updates and patches were already dealt with."
David Winstanley, Director, Winstanleys Pramworld
"And we wanted the satisfaction of knowing any money we put into development would actually be for development," David stated. "The way I see it is if you want to spend 90% of your money for 10% effectiveness on your website, then go for a Magento 2 website. But, if you want to spend 90% of your money and get 90% development on your site, then go for a SaaS platform, it's fairly straightforward."
Although the company glanced at Shopify, Pramworld's decision to go with BigCommerce was guided by its long-time development agency, Space48. "Space48 strongly recommended BigCommerce. So, we went down the route of discussing that with the UK sales manager of BigCommerce. And on the basis of that, we were happy to go with BigCommerce without really considering an alternative," David said.
After Pramworld launched on BigCommerce, the brand discovered just how easy it was to manage the platform. BigCommerce gave Pramworld more control, including the ability to roll out development tasks for itself.
"When we started looking into BigCommerce, we had access to the trial. So, we made sure it was a perfect fit for us and that was very much the case. We experienced no blockers that would have kept us from moving over to BigCommerce," said Michael Ellison, IT Manager at Winstanleys Pramworld. Amplifying the power of the platform is Microsoft Dynamics 365 Business Central, the enterprise resource planning (ERP) system used by Pramworld. "We use it for everything. It's a very powerful system. There's a lot of processes that we've managed to automate, which helps make it easy for our customers and also our teams to manage their workflows. It works brilliantly for us, delivering directors' reports all the way down to granular information on each product," David said.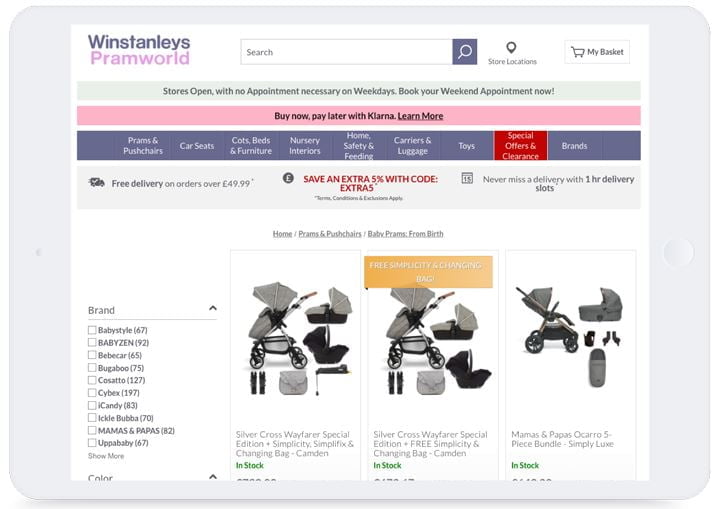 Results
Speed. Flexibility. Ease of operation.
Within a short period of time Pramworld was pleased to see the money it was spending improve the customer experience on its BigCommerce site. For instance, not only does the site offer a speedy checkout, but it also offers multiple payment options, like buy now, pay later with Klarna.
"It was so easy to implement Klarna. It took us less than a week from when we decided to integrate Klarna until it was actually up and running on our site, and we've noticed it is helping increase our conversion rate," David said.
David went on to share that since Pramworld first launched on BigCommerce in February 2021, the tweaks the brand has made continue to help the company improve its conversion rate. "I think the key thing here is that we are able to make those changes fairly easily. Whereas with Magento 2, it was quite a long drawn-out process to make changes, testing, making sure that any updates or security patches would work with the updates that we were making. For me, BigCommerce just works," David said.
"There's just no learning curve with BigCommerce. It's not complicated. You can start publishing almost immediately and it's so quick and easy to understand. I really do enjoy developing on it," Michael said.
Looking ahead
Keep on keeping on.
Pramworld will continue to focus its efforts on providing customers with the very best in products and the shopping experience, including integrating an online gift registry into its site as well as ramping up its social media marketing and future selling efforts.
Capitalizing on mobile shopping is front and center for Pramworld. Between March 1-June 18, 2021, mobile made up 73% of Pramworld's digital device transactions. "This is just unbelievable. It tells us that we really must focus our efforts on making the store user-friendly for our mobile shoppers," David said.
In April, just two months after launching on BigCommerce, Pramworld had already made great strides in achieving much of what was on its development roadmap. "I still feel we have a few things we want to achieve, but we are quite a long way down the development of where we wanted to go with the site," David said. "So, now it's all about blue-sky thinking and I find myself asking more and more, 'What's next?'"
Whatever is next, BigCommerce stands ready to help Pramworld realize its ecommerce goals now and in the years to come.