Awin Blog Post – Affiliate Industry Trends for 2023
How will affiliate and partner marketing evolve in 2023?
We highlight ten trends that may influence how the global industry fares in the coming months.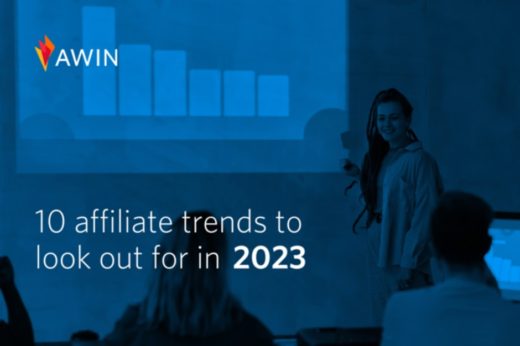 The affiliate marketing industry is constantly evolving and 2023 is set to bring a variety of new trends to the table. With advances in technology and shifts in consumer behaviour, businesses and marketers need to stay ahead of the curve to remain competitive.  
So, we run down our top ten trends to look out for this year, including the rise of reCommerce, mass adoption of unique coupon code strategies, and why an economic downturn could mean a bumper year for affiliate innovation. 
Whether you're a business looking to improve your affiliate marketing strategy or a marketer keen to keep abreast of the latest trends, this article is a must-read for anyone in the affiliate and partner marketing industry. 
#1 Inflation will drive more consumers to shop around and seek savings. Everywhere.
Let's start with an obvious one. The effects of inflation are being felt by shoppers across most of the world. That means more pressure on incomes and less disposable cash for shopping. 
During the 2008 recession this encouraged online buyers to seek out savings where they could. Incentive-based affiliates like cashback, coupon and loyalty partners saw huge spikes in demand during this period.  
In fact, it firmly established these publisher models as the most important ones for any affiliate programme from a sales-driving perspective. Between 2008 and 2018, incentive partners' share of sales on Awin affiliate programmes in the UK grew from 37% to 70%. That has since been diluted by more recent diversification in the industry and a shift toward recognising marketing value beyond just last-click attribution.  
But, with a return to more stringent times, could we see that diversification trend recede?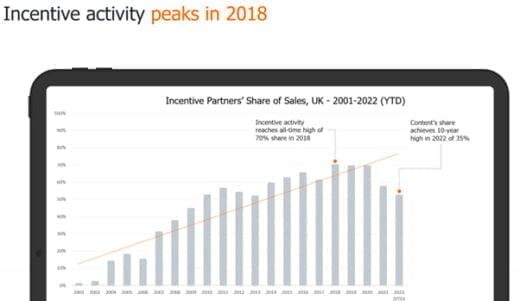 Recent analysis of US shoppers suggests that yes, the response to increased prices is more price comparison online and more seeking out of discounts. Almost half of surveyed US shoppers in Activate's research visited multiple online stores to find the best price. While a third actively looked for or waited for discounts before making a purchase.
That trend may not be at the expense of partner diversification though.  
While incentive partners continue to be an enormously valuable source of offers and savings for shoppers, the proliferation of discount codes and promotions across practically every publisher type means this is no longer their exclusive remit or value. 
In the same way that the affiliate channel has become more varied and sophisticated in the last decade, so too have individual affiliates themselves.  
So, you can just as easily source a discount from a blogger or influencer as you can read a valuable review or buyer's guide on a cashback or coupon site. 
What counts then is the level of trust that partner has established with their audience and the confidence the audience has in their guidance.  
2023 will see discounts and promotions everywhere—but only those affiliates that have forged real trust with their users will see the benefit. 
#2 Resale and rental marketplaces to thrive in economic downturn
Shopping sustainably is often one of the first victims of a recession. With money squeezed, consumers naturally opt for cheaper, less sustainable buying options.  
In 2008, market research showed how the decade-long growth in organic food sales in the UK slowed following the fallout from the financial crisis.  
Sustainable shopping options have become more prevalent and wide-ranging since then, but many shoppers have already begun to pull back on their more ethical purchases. More than half of consumers in a global survey from Kantar last spring were already considering switching to less sustainable, cheaper products in response to increased inflation. 
However, some experts suggest that a growing circular economy premised on the recycling, renting, and refurbishing of old products may prevent such a backward step this time round. 
'ReCommerce' marketplaces like Back Market, musicMagpie, Vinted and Shpock have helped popularise the concept of buying used goods that have been refurbished and are now much cheaper.  
ReCommerce marketplaces already make up around 10% of all eCommerce sales in Europe and are expected to grow that share to 14% by 2025—representing a forecasted €120b in sales.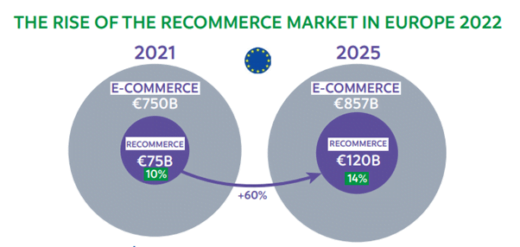 eBay remains the de facto marketplace for this type of shopping and has continued to expand its offering for preloved products through partnerships with specialist repair suppliers like Reskinned in the UK.
And with the likes of The RealReal and Rent The Runway making luxury fashion more affordable through rental models there are now a wide range of options for shoppers seeking to save money whilst still reducing their environmental impact.
Expect demand for these marketplaces to soar throughout 2023.
#3 Expect less industry M&A activity and more strategic partnerships as investor cash dries up
December 2022 saw a number of notable mergers and acquisitions take place in the affiliate world.
In the coupon space the merger of Global Savings Group with Pepper.com combined two of the most well-known and successful partners in the industry.
Acceleration Partners' acquisition of Influencer Response and Volt Agency further bolstered its own global offering across influencer and performance marketing activity.
And yet despite that strong finish to the year, from a macro perspective 2022 represented a sizable downturn in the M&A market. Worldwide deals were down 38% compared to 2021 and the second half of the year saw the biggest decline in activity since records began in 1980.
With interest rates increasing the cost of borrowing and many investors spooked by predicted recessions it looks like 2023 could follow a similar pattern.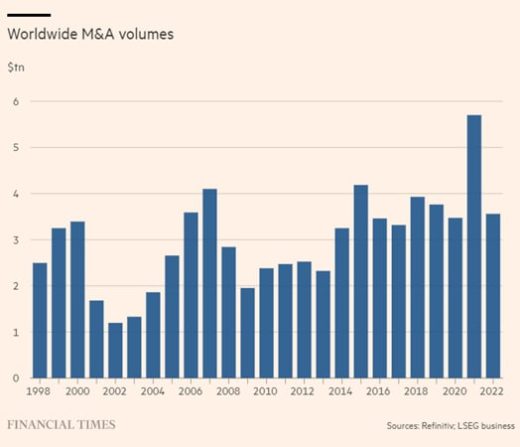 The early signs from investment banks are that a tough year is ahead. Goldman Sachs announced it was axing 3,000 staff this month while Morgan Chase declared it would be reducing its global headcount by 2% too. Investment banking teams and those operating in the M&A space are expected to bear the brunt of these cuts.
With that being the case, it may be we see much less M&A activity in the affiliate world too and, instead, more strategic partnerships that don't require the same levels of capital or resource to complete.
This approach has been something that Awin itself has pursued in recent years with strategic partnerships with other platforms opening up new scope for clients across a range of functions. In particular, partnerships with a roster of cutting-edge influencer platforms have ensured advertisers can easily discover, run and measure such campaigns alongside their core affiliate programmes.
While high profile acquisitions and mergers may be less common in 2023, we can still expect to see industry players continue developing their offerings via more tactical partnerships like these.
#4 Google's FMTC partnership to spur single-use code adoption and improve coupon space standards
Speaking of strategic partnerships, the announcement of Google's partnership with the coupon code aggregator FMTC at the end of 2022 revealed the tech giant would be featuring the latter's feed of retailer offers in its shopping and search results.
Google has historically not ventured too far into the affiliate world since it closed its own network back in 2013, focusing instead on its own ad products that it could more easily automate and scale for its clients.
The implications of this new partnership have many in the affiliate coupon space understandably worried. Google is an 800lb gorilla and when it decides to reshape a market or industry there's pretty much nothing you can do about that.
However, looking at the limited detail we have on the partnership so far it appears Google will initially only be featuring site-wide codes in the US from those merchants that are signed up to FMTC's FreshReach programme.
Google's intention here seems to be centred on making it easier for shoppers to find generic codes. If, over time, shoppers learn that Google is the best place to source such codes then the initiative may help further clean up the spammy element of the coupon space where there are still many sites making a living from ranking high for coupon code searches for which they only offer a generic retailer coupon which the shopper could have found on site themselves. The opposite of incremental marketing value.
For those coupon affiliates that are focused squarely on driving actual value for their audiences, the announcement could act as an incentive to work even closer with their advertiser partners. Securing exclusive promotions, innovating new ways of promoting retailer products, and the increased use of unique code attribution may all be tactics we see more of in an attempt to ward off Google's impact.
Global Savings Group and Pepper.com's merger suggests another approach too; security via consolidation and diversification.
Either way, 2023 will be an interesting year in the incentive space with the likelihood we'll see standards continue to rise.
#5 Influencer channel to make gains from paid social thanks to impact of Apple's iOS privacy changes
One of the unanticipated consequences of the pandemic was just how many new online retailers would emerge from the global lockdown. And the knock-on effect of this new competitive landscape was felt acutely in the cost of acquiring customers online. Given ad spend was already concentrated primarily on just two or three ad platforms it was in hindsight inevitable that this would be the case.
Compounding that acceleration in ad costs was the signal loss enacted by Apple's IDFA changes in 2021. Now, targeting and measuring your campaigns on iOS was near impossible.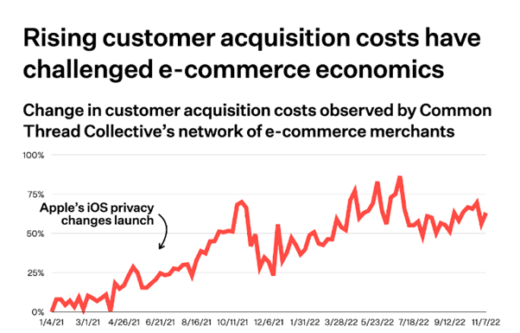 For many businesses that had been reliant on Meta's ad targeting capabilities this was a fatal blow. In response, some have since taken money out of their paid social budgets and instead funnelled it into direct partnerships with influencers on the same platforms.
This has the attraction of not only retaining brand presence in the same online environments but also in a way that is implicitly more privacy centric. As CreatorIQ's COO Tim Sovay suggests, partnering with influencers in this way represents a "double opt-in" that respects both users and influencers themselves. By following an influencer, a user has explicitly stated their interest in their content, while influencers themselves choose which brands they wish to collaborate with.
With Meta and other ad platforms still reeling from Apple's decision to restrict access to user data on iOS devices, influencer marketing has a unique opportunity to grow its share of ad spend from paid social this year.
#6 Google and Meta's new performance ad solutions will thrive…and then be questioned
Though ChatGPT (see below) has stolen the AI headlines recently, two more immediately impactful solutions are already at the disposal of select advertisers. Google's Performance Max and Meta's Advantage+ ad solutions are both premised on automation via machine learning models.
Advertisers plug their sales and CRM data into them and then define a set of criteria including budget caps, their favoured types of conversion and share any creative assets they have for their campaign.
From that point on the ad solutions' AI takes over. They automatically serve the ads across the respective platforms' environments without further input or guidance from the marketer. They can even generate new creative assets based on the original ones uploaded by the brand.
This level of automation is unprecedented and obviously has the attraction of alleviating the burden of manual targeting options for time-scarce marketers. Early reports also suggest the solutions are incredibly effective, with early adopters reporting extremely high ROIs on their ad spend.
However, both solutions offer next to no performance insight. Advertisers are fed back aggregate results on their conversions with no visibility on where ads were placed, how individual creative performed, or which individual audiences engaged with the campaign.
Pressurised marketers are likely to find the high ROIs and automation of these solutions enormously attractive in 2023, but at what cost? With a profound loss of control and transparency around their ad campaigns it may not be long before we hear of brand safety controversies emerging for those that embrace them too readily.
The more direct, transparent but less fashionably manual model that affiliate marketing is still largely premised on could enjoy a renaissance if too many advertisers get their fingers burnt by these black box solutions.
#7 Brand partnership model will proliferate as niche brands embrace retail media tactic
With retail media one of the few bright spots of growth in advertising last year, and set to continue in 2023, brand partnerships also stand to gain momentum as an offshoot of this trend.
Amazon's success in providing an ad platform where retailers could reach audiences in shopping mode has led to the emergence of numerous new retail media networks.
It now feels like every multi-category retailer is launching their own ad platform to emulate Amazon's success. Walmart, Best Buy, Wayfair, Kroger, Tesco, Sainsburys and many others are experimenting with the strategy, eager to generate ad dollars from the first-party customer data they have.
By 2024 eMarketer projects retail media could constitute almost a fifth of all digital ad spend.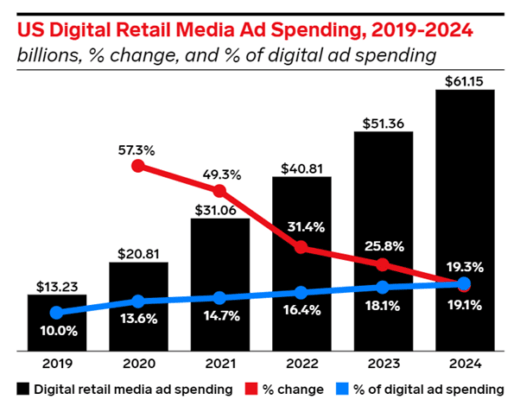 Where does this leave smaller online retailers though? They don't command the same volume of traffic that these eCommerce giants do, and their niche product focus means they necessarily have to be more precise in promoting relevant non-competitors to their customers.
Brand partnerships may provide the answer.
By entering into an affiliate partnership with a relevant brand, smaller retailers can generate a completely new income stream that has reciprocal benefits.
As a promoter you get to offer your customers compelling promotions from other relevant retailers that can help boost loyalty. As the promoted brand you get access to new audiences that may not have considered your company before in a trusted environment.
In 2022, Awin helped connect over 700 advertisers via brand partnerships generating more than $15m in additional sales revenue.
The increased simplicity of being able to set these partnerships up within your own affiliate programme means this is a trend we expect to thrive over the next 12 months.
#8 Tech partner adoption to flourish with CX front of mind for eCommerce leaders
The tech partner space has flourished in the last 12 months with more and more retailers embracing the affiliate channel's variety of solutions for improving their own customer experiences.
Those that featured in the dedicated tech partners chapter of the Awin Report had the highest growth of all chapters—a 129% increase in advertiser revenue generated by these partners since its publication.
In 2023 this trend will continue growing as we see more technology solutions enter the channel and provide a steady stream of new eCommerce innovations.
The importance of good CX right now cannot be overstated. One of the effects of the pandemic and physical lockdowns was to encourage more shoppers and businesses online. With that influx of demand and choice to the web it became ever simpler for shoppers to find new alternatives to the brands they bought from. As competition intensified retailers had to ensure users who landed on their eCommerce sites could easily find the products they were looking for. The act of buying had to be a frictionless one they enjoyed.
As the survey featured in eMarketer shows below, the advantages of providing great CX compounds in value for the retailer. A positive customer service experience not only makes that shopper more likely to buy from them again, but also makes them more likely to buy more frequently, to tell their friends and family about the brand and leave positive reviews and ratings about that company online.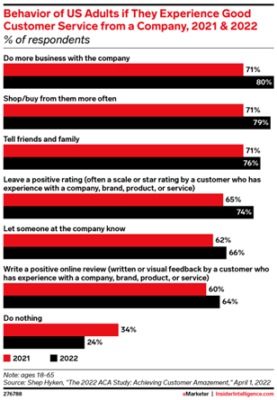 And the opposite is true when that experience doesn't match consumer expectations. Shoppers are more likely to buy from a competitor, and more likely to tell their peers not to buy from your brand.
This year, with customer acquisition costs high and marketing budgets under fire, marketers that focus on enhancing their CX and optimising the value of the shoppers they already interact with can drive truly incremental value for their business.
And with tech partners in the affiliate space able to offer these CX enhancements quickly and easily on a performance-based commercial model via platforms like Awin's, this is a trend we expect to see gather real momentum in 2023.
#9 Era of uncertainty means 'adventure' advertisers will go on outperforming their 'armchair' equivalents
Chaos has firmly established itself as the new normal over the last few years and made all our lives a little less predictable. Whether its supply chain disruption, 'stagflation,' a shifting regulatory landscape or any number of other external factors, there's a sense that some new hurdle is waiting just around the corner for businesses everywhere.
With that in mind, agility and speed have taken on renewed value for marketers as they attempt to navigate these constantly choppy waters. It's not enough to hunker down and hope for the best. Instead, you need to be proactive as a marketer, forever experimenting with new approaches. Those that do stand to gain share from their more passive competitors.
That was the main takeaway from Awin research late last year which compared those 'armchair' advertisers who took a more laid back approach to running their affiliate activity than their more adventurous counterparts.
Broadly speaking, 'armchair' advertiser programmes were focused on just a few traditional partners and had no budget or scope for testing more varied partnerships. By contrast, 'adventure' advertisers ran programmes that contained far more varied partner types with additional budget to experiment with new partners.
Comparing these groups across a range of essential KPIs over a 12-month period revealed some telling signs.
Armchair advertisers actually produced a marginally better conversion rate overall. Understandable given their focus on traditional, primarily incentive-based partners that were well optimised for conversions.
However, when it came to every other valuable metric, traffic volume, AOVs and sales, adventure advertisers won out. Significantly so too.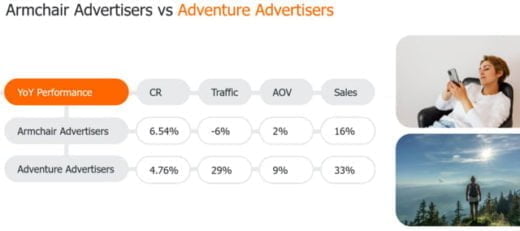 These results gave validation to a theory that Awin has long held true. That those brands who invest more time, effort and spend into their partnerships will see the benefits.  
In much the same way that historic marketing research tells brands not to cut ad spend during a recession, so too does continuing to experiment during chaotic times ensure your business is better placed to ride out those bumps.  
A more diversified partner programme that includes affiliates contributing different values to your business, interacting with shoppers at various stages of the buying cycle can ensure your marketing campaigns are more agile and less at risk to sudden disruption. 
2023 will test the limits of the armchair advertiser's approach. 
#10 ChatGPT to fuel AI innovation…or at least write next year's industry predictions
Everyone's favourite chatbot features in practically every set of industry predictions this year. And with good reason. The AI-powered text generator has experts pronouncing the death of copywriters(!), programmers, even Google Search. But at this point it's too early to tell exactly where its impact will be felt most acutely. 
What is interesting to note though is the timing of its release coinciding with a spate of layoffs across some of the tech industry's biggest players. Economic downturns are, counterintuitively, a great time for new business creation. With a lot of talented tech workers suddenly able to focus on their own projects with access to new AI-based tools like ChatGPT, Stable Diffusion and Midjourney, this could be a halcyon year for innovative start-ups premised on artificial intelligence. 
Combine this with the fact there is nowhere near the quantity of investor capital available for these new ventures compared to previous years and you can see why the affiliate industry could see the benefit of this period of new business creation. Looking for a quick means of monetisation, 2023 could be a year where we witness rapid growth in the volume of AI-based technologies emerging in the affiliate world. 
And if that prediction proves wildly inaccurate then at least next year's will be generated by AI instead…